In these modern times, you can only do modern things. This fact is better known than most automakers. They are now replacing outdated digital displays and navigation with advanced infotainment and connectivity solutions to keep drivers entertained, informed and in touch with the outside world. Their ingenuity not only helped spawn a plethora of modern touchscreen infotainment systems, but ultimately resulted in a wealth of options that made choosing very difficult.


Without deterring, we've compiled a list of the 10 2023 models with the best infotainment systems. Read on to see which vehicles are on the list.

10/10

2023 Volkswagen Atlas

The Volkswagen Atlas doesn't have the most exciting infotainment system, but there's a lot to be said for its simplicity. Intuitive menus, quick responses, and crisp graphics make the 6.5-inch touchscreen (8-inch display available) a great hassle-free gadget.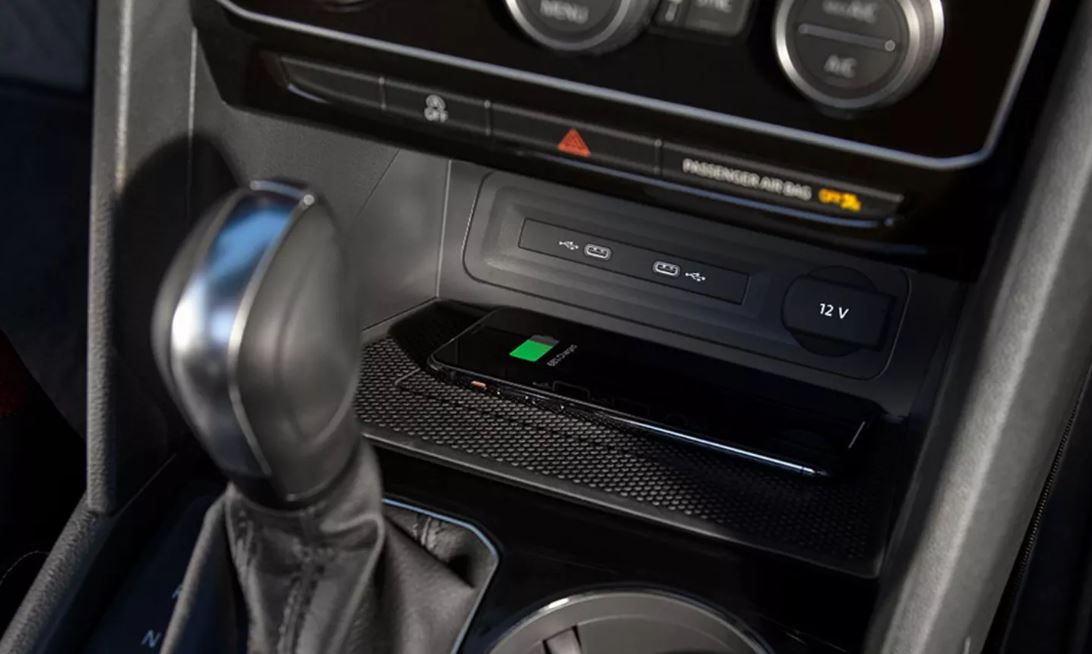 It's also worth mentioning that the presence of physical buttons and knobs for audio and climate control also help make the infotainment system perfect for use on the move.

9/10

2023 Kia Seltos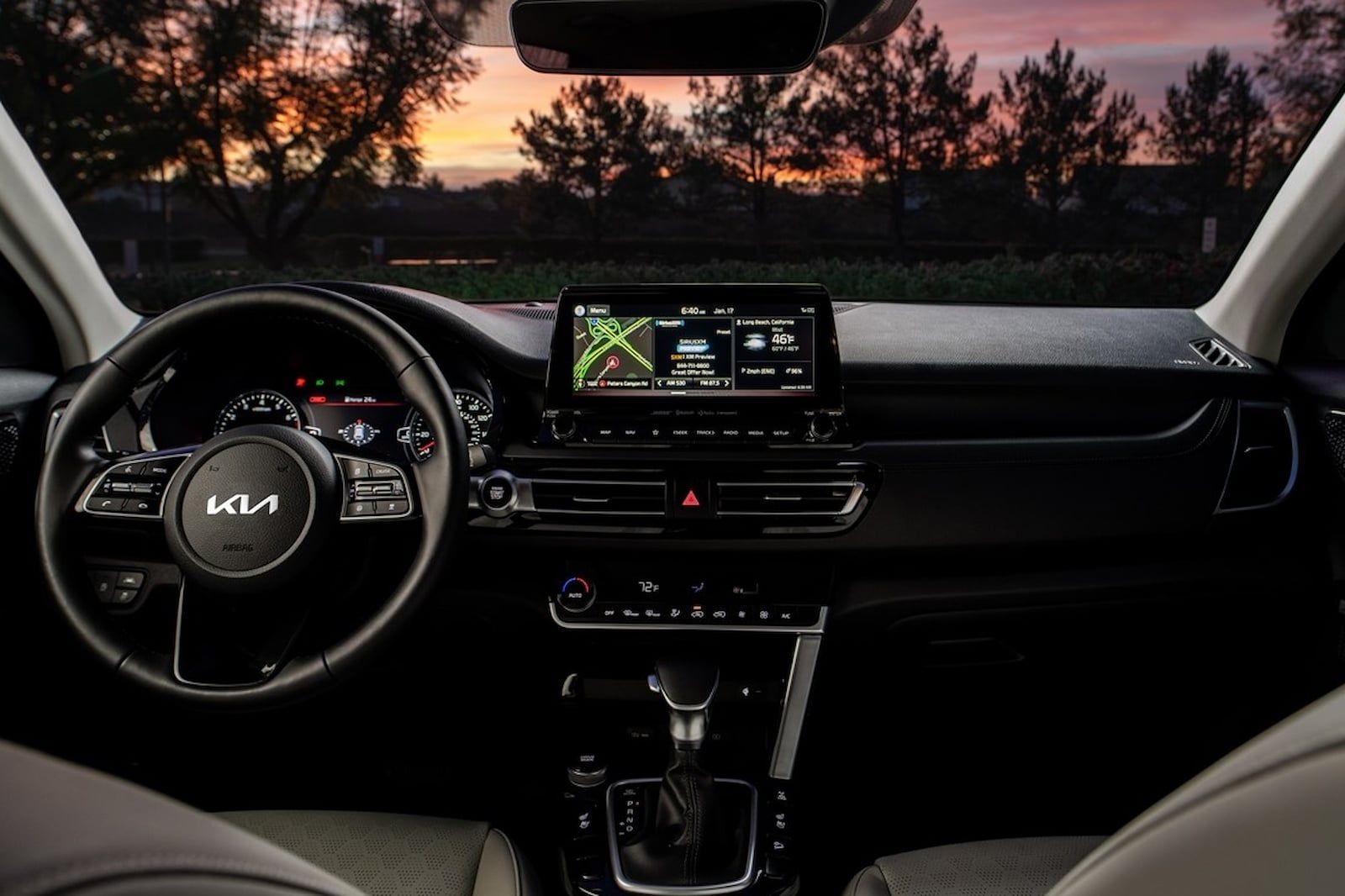 At first glance, the Kia Seltos is not the kind of vehicle you'd expect to find on these kind of lists. However, this model has proven its worth as far as the best car infotainment systems are concerned. Both standard 8.0-inch and 10.2-inch displays feature crisp, easy-to-read graphics, quick responses, and clear menu structures that users will appreciate.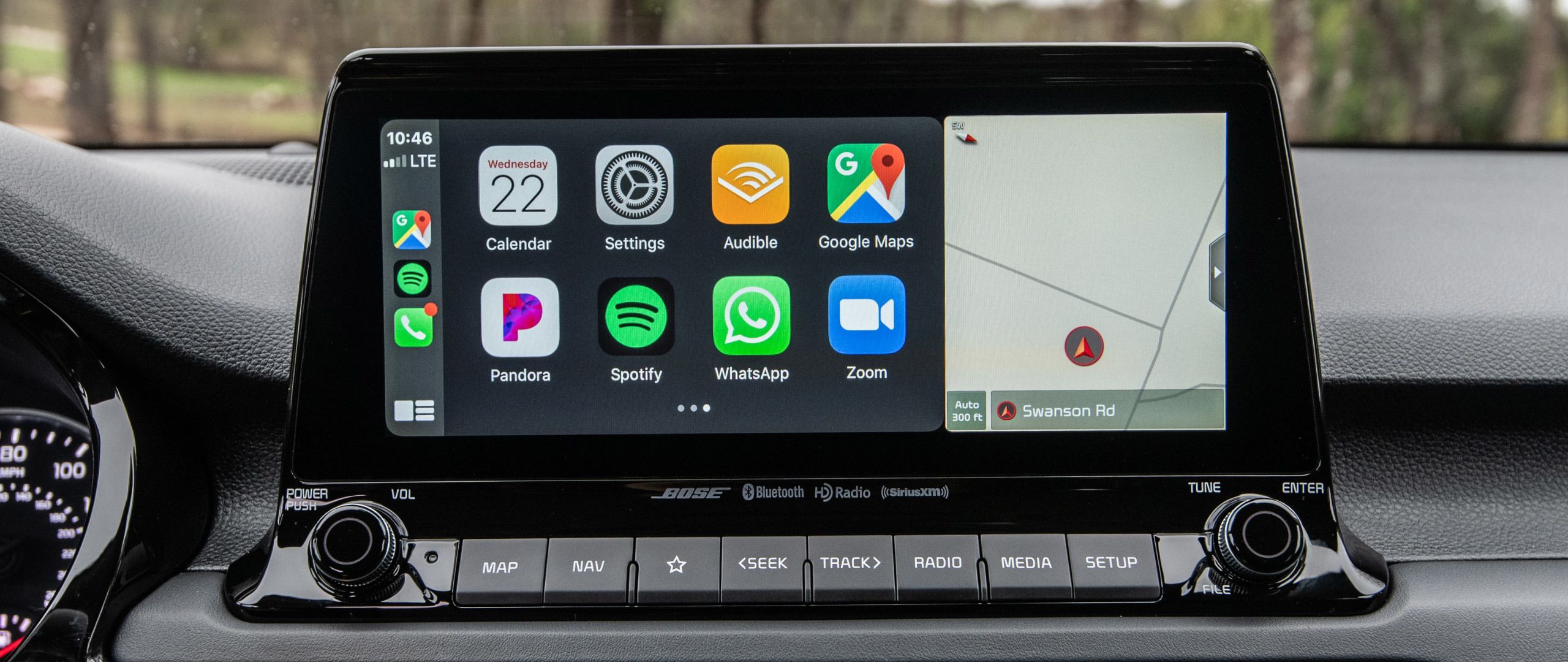 Consumers who still value physical buttons and knobs are also welcome to include them here, as they make adjusting climate and audio controls much easier.
Related: Why Mercedes-Benz Hyperscreen Is Today's Most Advanced Infotainment System

8/10

2023 Kia Telluride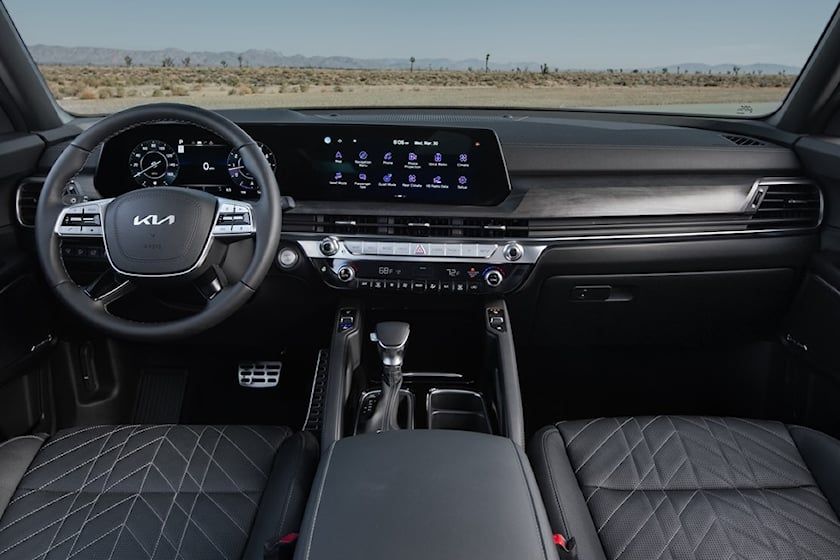 Stylish and well-made, the 2023 Kia Telluride is a midsize SUV that will appeal to consumers seeking a vehicle with unique, sophisticated styling, a comfortable interior, excellent ride quality and excellent handling capabilities.
As well as performance, style and comfort, the Telluride has a clear and simple dashboard with a modern and easy-to-use 12.3-inch touchscreen infotainment system that controls the vehicle's various functions. These include navigation, multimedia, telephony, and Internet-based applications, all at the tap of your finger. To minimize distractions, the SUV comes with buttons and knobs that allow drivers to easily adjust audio and climate controls while driving.

7/10

2023 Chrysler Pacifica
Chrysler Pacifica inherits one of the best minivans on the market, a well-equipped vehicle that offers attractive features and capabilities to impress the modern family-oriented consumer. Even at the base level, it is equipped with heated front seats, tri-zone auto climate, steering wheel heater, keyless entry, push button start and remote start. Add to this list a spacious and highly versatile interior (think standard Stow'n Go seats) and you quickly realize that you have a well-balanced minivan with very few compromises. you can see.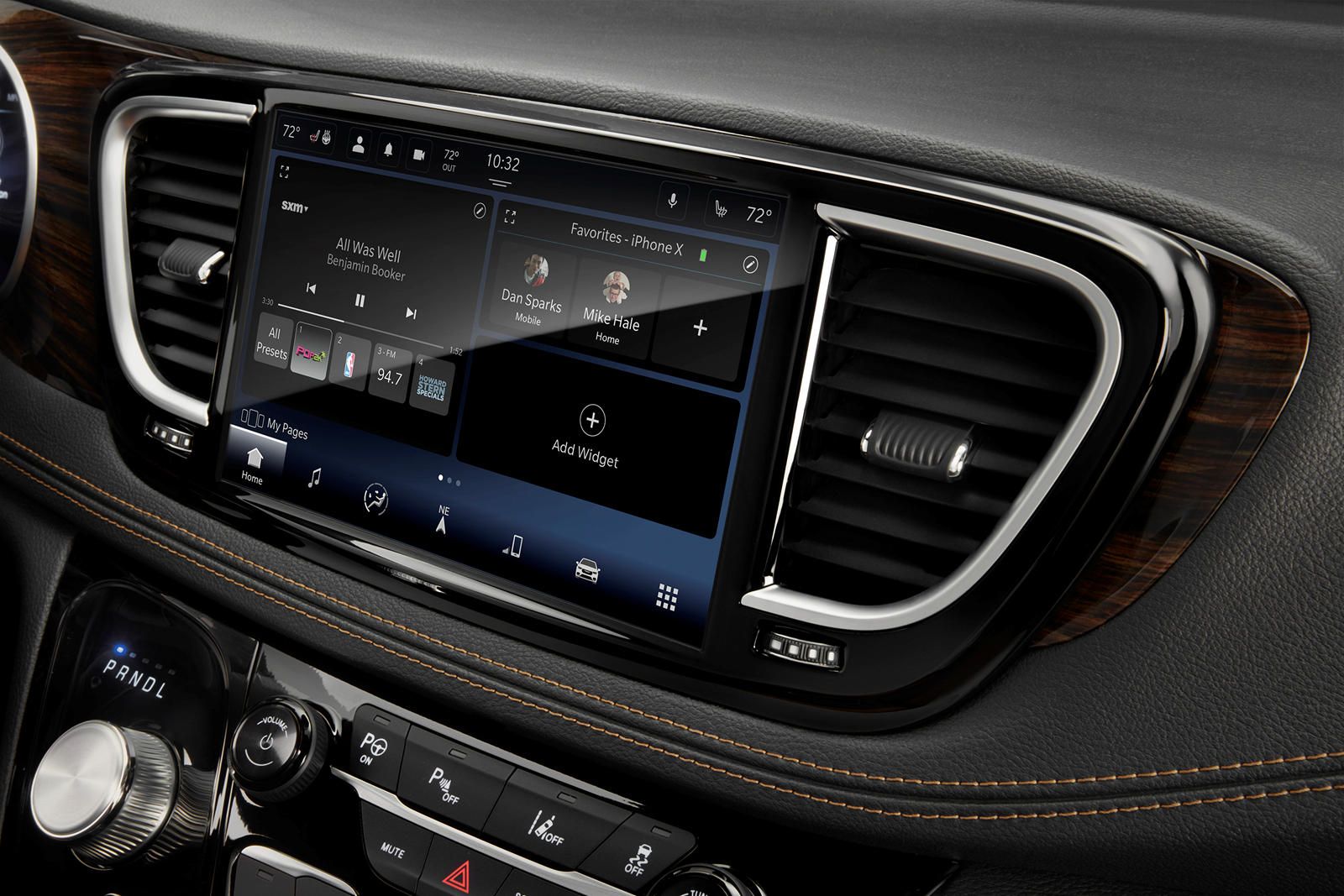 Available in seven or eight seats, the vehicle comes standard with a sharp 10.1-inch touchscreen running Chrysler's Uconnect 5 infotainment system with wireless Apple CarPlay and Android Auto capabilities. Amazon Alexa integration, Wi-Fi hotspot, USB port, and Bluetooth are part of the package.
RELATED: The 10 Biggest Screens You'll See in Your Car

6/10

2023 Chevrolet Suburban

While there are plenty of higher-tech, better-looking options on this list, consumers will appreciate the simplicity of the Chevrolet Suburban infotainment system, especially the optional 10.2-inch guise. The 10.2-inch touchscreen is not only more sleek than the standard 8-inch display, but it also features crisp graphics and fast response times to match the futuristic look.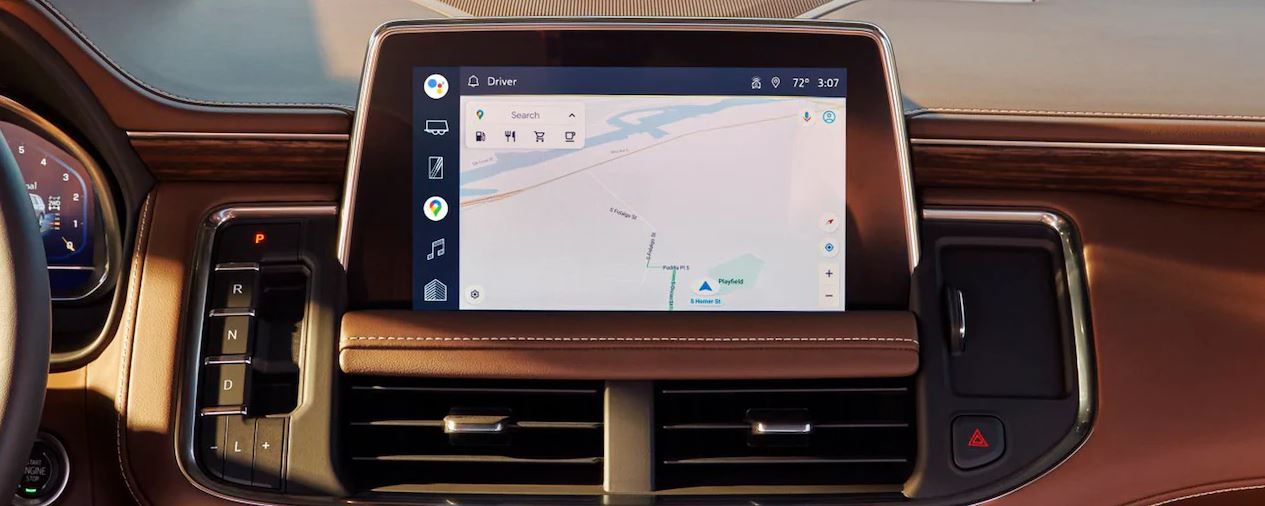 Additionally, the optional screen comes with a 12-inch digital gauge cluster, providing a crisp, high-definition display that provides key vehicle information in the clearest form possible. If you make your way down to the options list, the rear-seat entertainment system with two 12.6-inch touchscreens is another worthy addition.

5/10

2023 BMW iX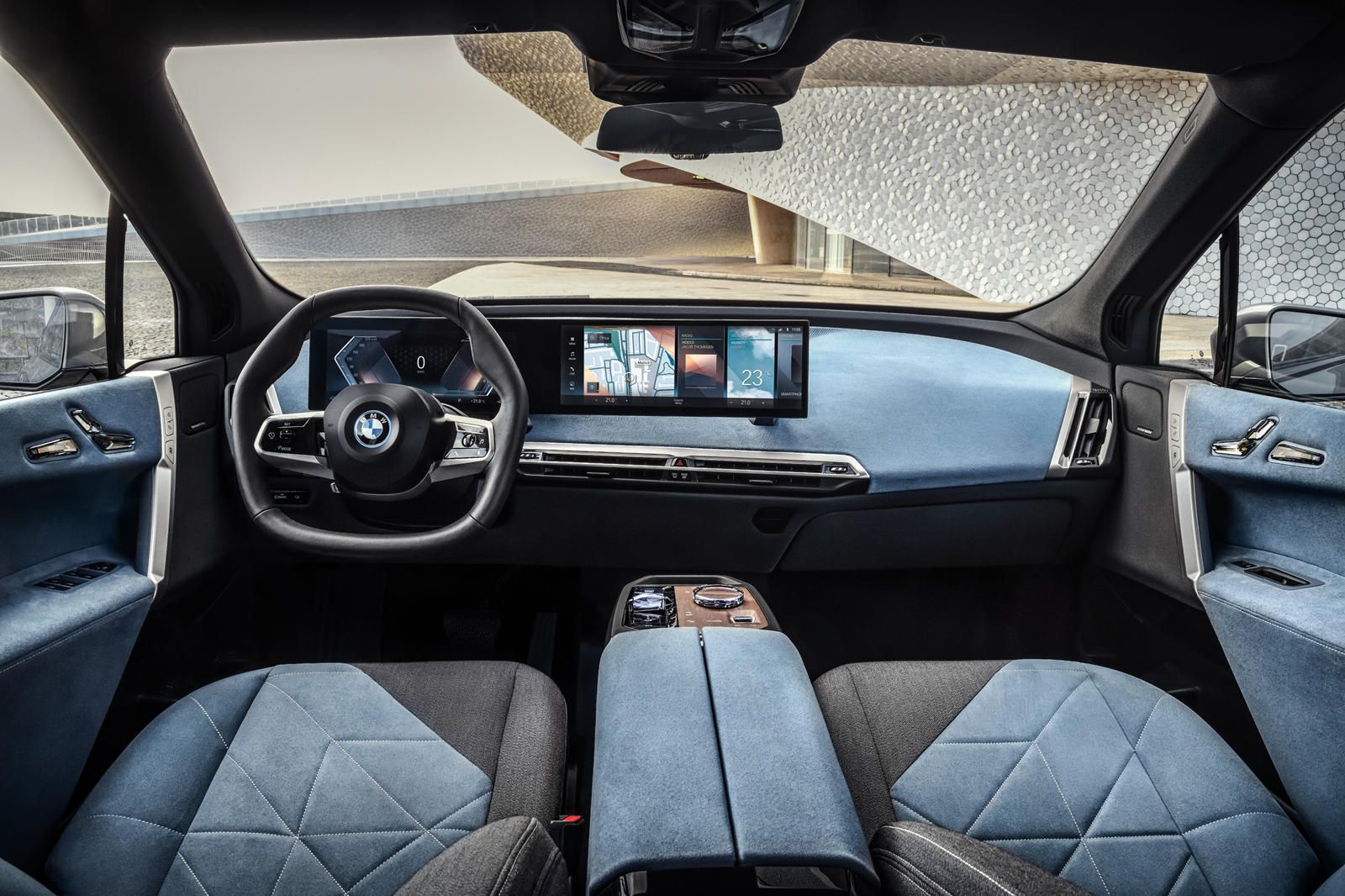 The BMW iX, which was introduced only last year, seems to be packed with the latest technology. Thankfully, this gorgeous electric SUV doesn't disappoint.
Its dashboard is graced by a snappy and responsive 14.9-inch touchscreen running the latest iDrive 8 infotainment system. The vehicle also features a 12.3-inch digital instrument cluster, wireless Apple CarPlay and Android Auto, navigation, wireless device charging, HD radio, satellite radio, 6 USB ports, and a 12-speaker audio system.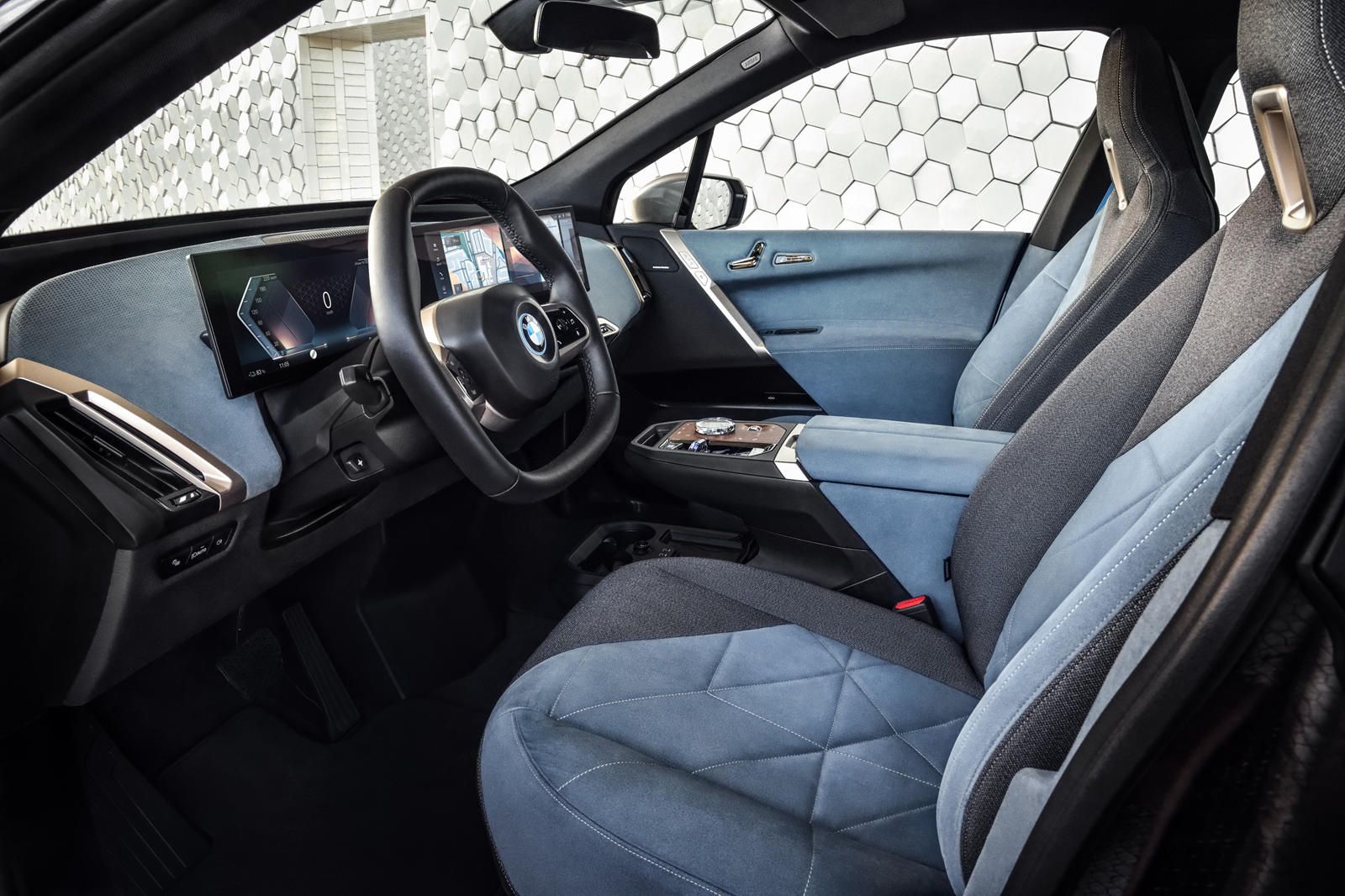 Wi-Fi hotspot, augmented reality navigation, in-car camera, gesture recognition and 18- and 30-speaker sound systems are available as options.
RELATED: 10 Upcoming 2023 Cars Worth the Wait

4/10

2023 Audi Q8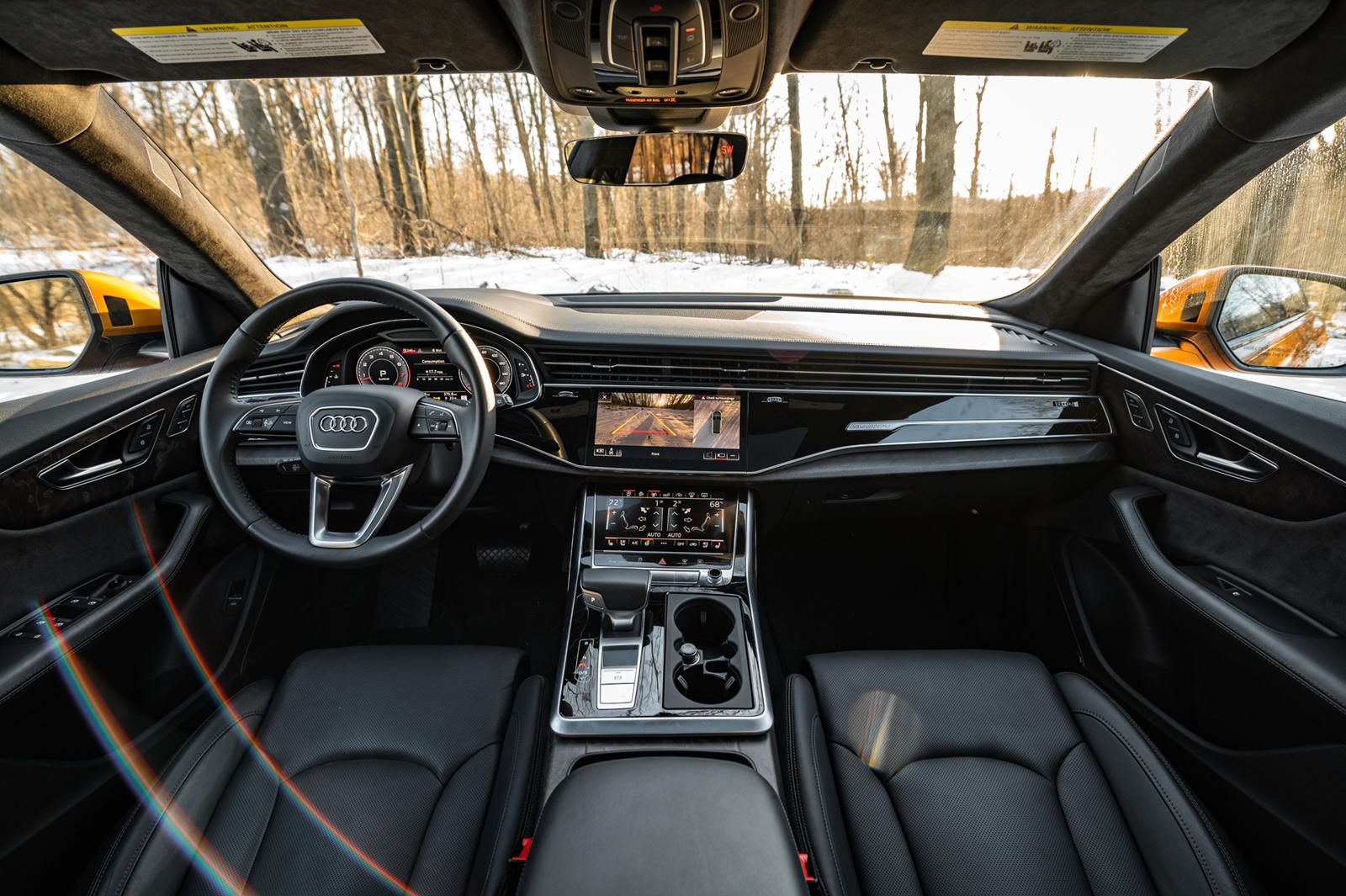 If you don't mind the $73,995 starting price and poor fuel economy, the 2023 Audi Q8 is the perfect luxury midsize SUV. The vehicle features a dual-screen infotainment system with 10.1-inch and 8.6-inch touchscreens with intuitive menus for quick and effective navigation. Despite the lack of physical controls, large icons make it easy to use the system while on the move (the system can also be operated via voice commands and steering wheel controls).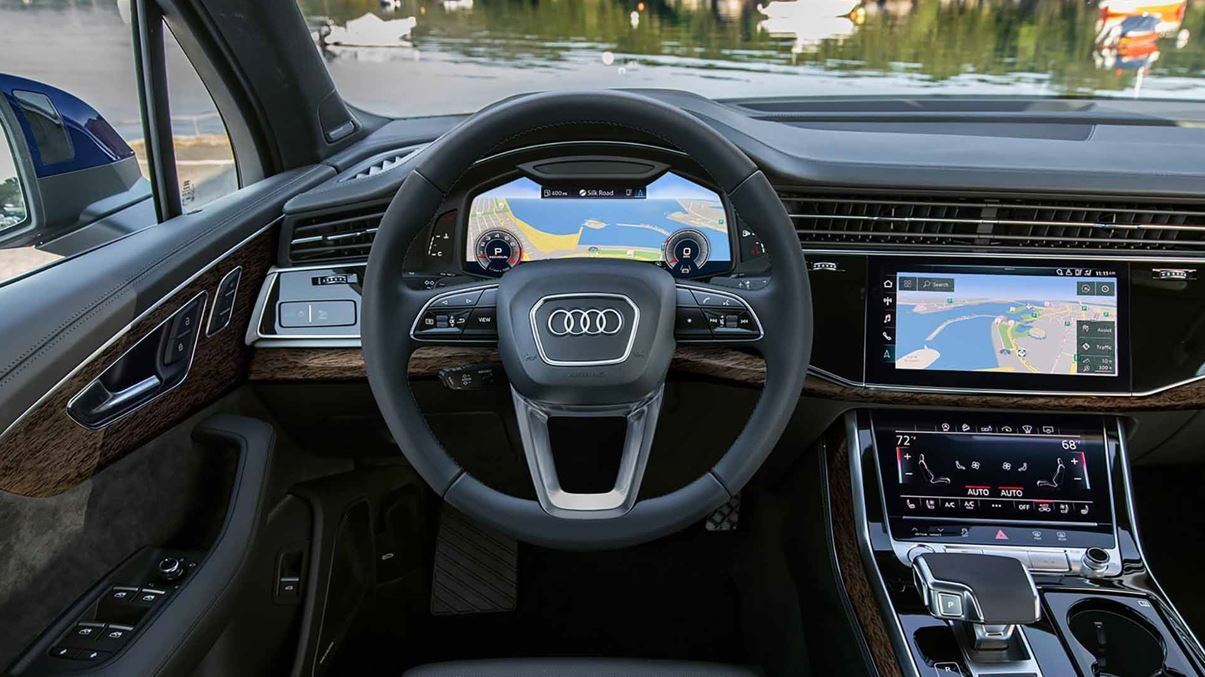 Functions such as stereo, navigation, and Apple CarPlay are controlled via a 10.1-inch touchscreen, while climate control is controlled via an 8.6-inch touchscreen below.

3/10

2023 Lincoln Navigator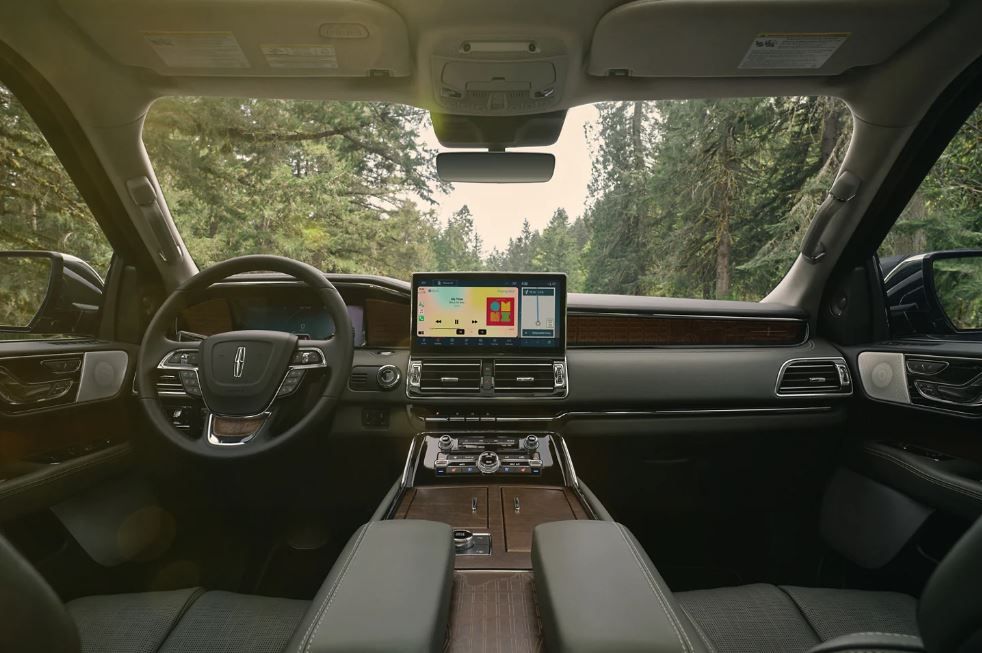 The Lincoln Navigator has earned a reputation for offering a versatile and luxurious interior, great cargo and passenger space, and an easy-to-use infotainment system, and the latest model continues that tradition. Aided by the impressive SYNC 4 infotainment system, the standard 13.2-inch touchscreen combines user-friendly operation with crisp graphics for an amazing experience.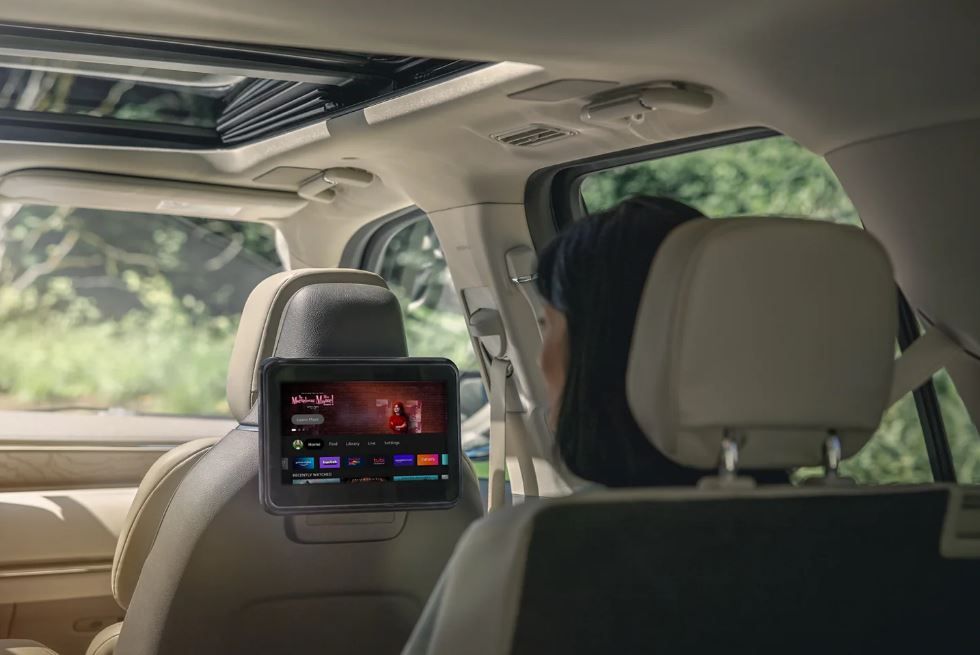 Other standard infotainment features include wireless Apple CarPlay and Android Auto, Wi-Fi hotspot, navigation, wireless device charging, satellite radio, five USB ports, and a 14-speaker audio system. Equally impressive is the ability to keep the system up to date thanks to his 5G Wi-Fi hotspot onboard, so you can upgrade software wirelessly.
RELATED: The Hottest New Performance Cars Coming in 2023

2/10

2023 Mercedes-Benz S-Class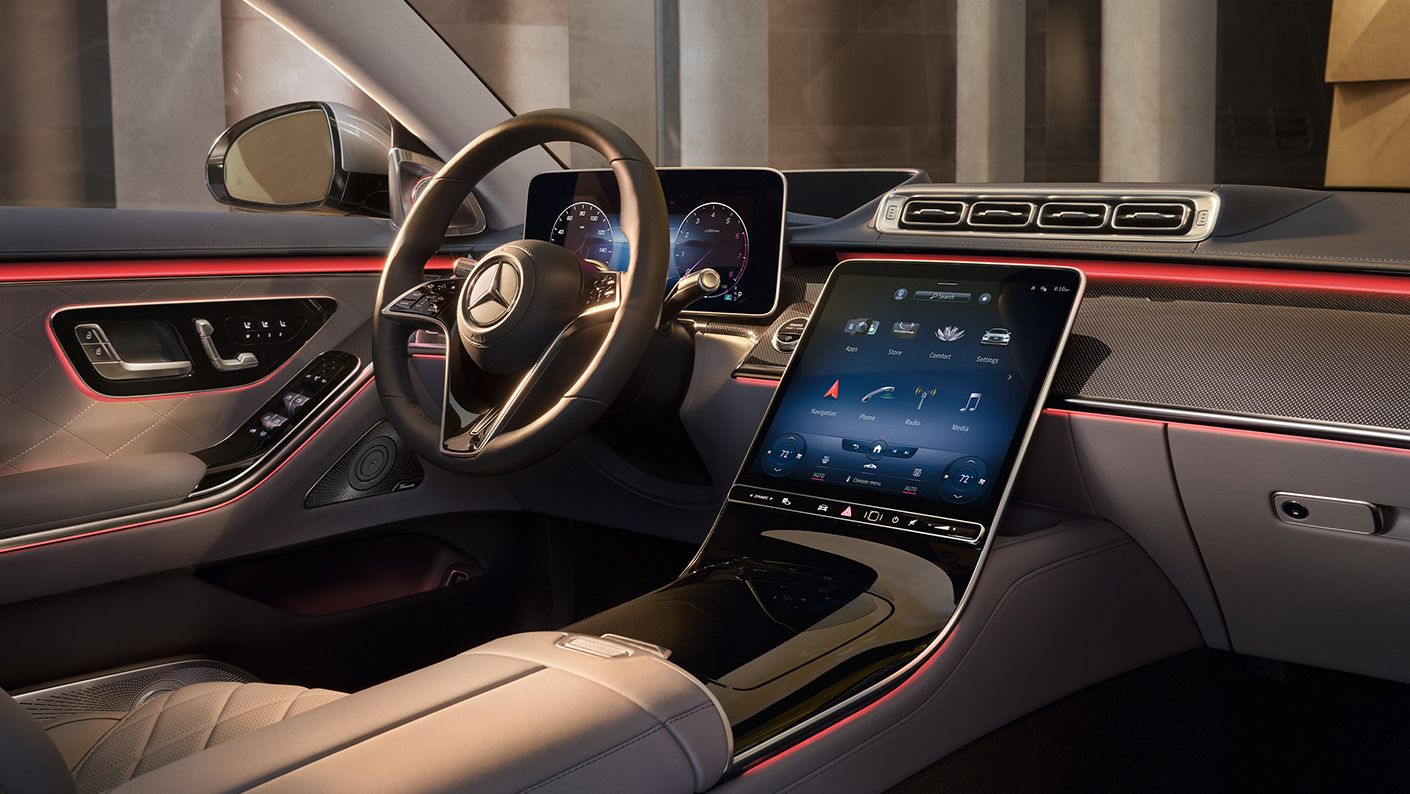 Well, we can't list the 10 best automotive infotainment systems of 2023 without including the Mercedes-Benz S-Class. The luxury full-size vehicle is equipped with a 12.8-inch OLED touchscreen with the latest Mercedes-Benz User Experience (MBUX) infotainment system. It offers vivid graphics and a user-friendly menu structure, and in addition to large icons, it's easy to navigate without a touchpad or rotary controller.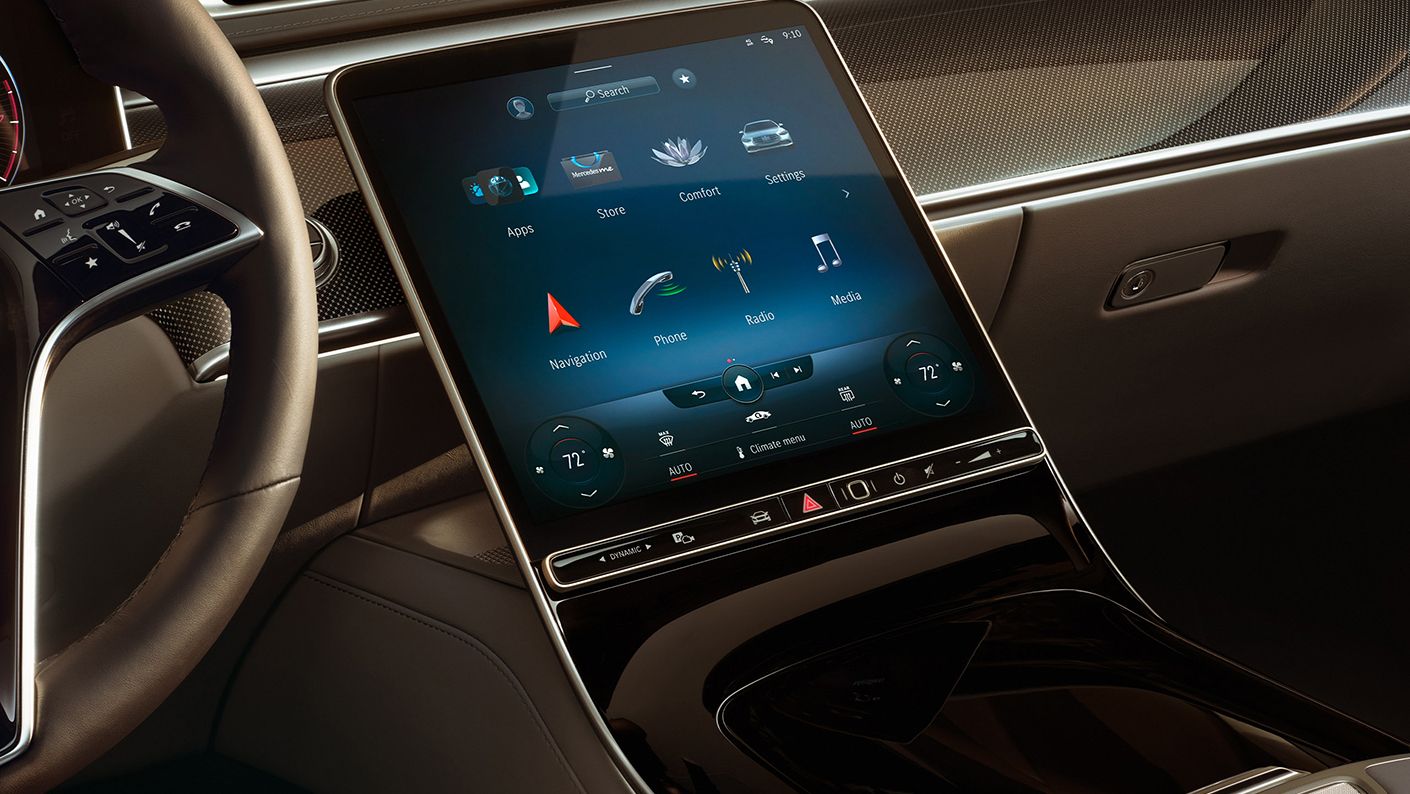 Additional standard infotainment features include a 12.3-inch digital gauge cluster, wireless Apple CarPlay, Android Auto connectivity, wireless device charging, USB ports, gesture control, "Hey Mercedes" voice assistant, HD radio, satellite radio, navigation, and 15-speaker audio system.

1/10

2023 Cadillac Escalade
When it comes to cars with the best infotainment systems, nothing beats Cadillac's best efforts. The 2023 Escalade features a digital dashboard consisting of three curved OLED displays (a 16.9-inch touchscreen combined with a 14.2-inch digital instrument cluster and a 7.2-inch digital control panel), which combine Create 38.3 inches of digital space. Not only does the system look great, it's also responsive with easy-to-use menus and crisp graphics.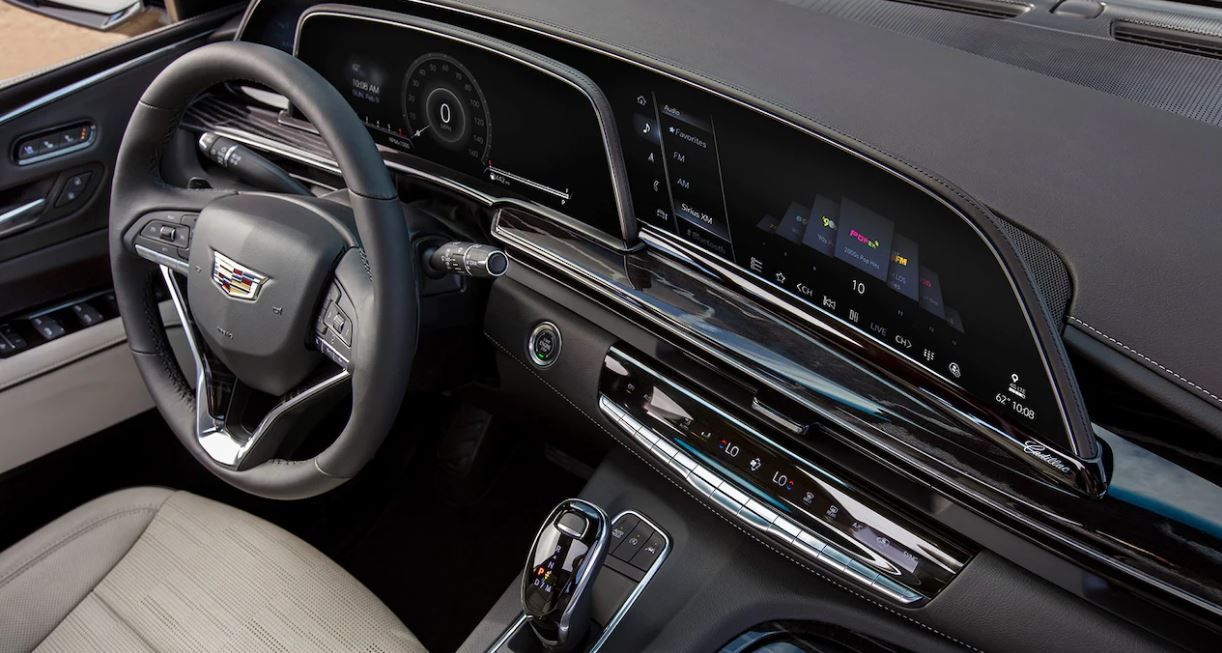 The Escalade is also equipped with a number of advanced features that make it especially suitable for high-end luxury consumers. They include wireless Apple CarPlay and Android Auto smartphone integration, Wi-Fi hotspot, wireless device charging, navigation, HD radio, satellite radio, USB ports, and a 19-speaker AKG audio system. If you want even more equipment, you can choose from available equipment such as a rear-seat entertainment system with two 12.6-inch touchscreens and his AKG Studio Reference audio system with 36 speakers.